About Us
  Original Building circa.1962
West Philadelphia High School (WPHS), Philadelphia's first secondary school west of the Schuylkill, opened in 1912 with a student population in excess of 5,500. Such was the press on the new high school, which originally stood as two separate buildings for boys and girls.
The WPHS's athletic field, is located at 48th and Spruce Street (one block south of the old school building), was formally known as Passon Field and home to Negro League baseball in the 1930s. The park was the home field of the Eastern Colored League's Philadelphia Bacharach Giants starting in 1931, and the Negro National League's Philadelphia Stars in 1934 and 1935. The field is still in use by West Philadelphia High School's SPEEDBOYS football team. The field recently underwent a complete renovation and upgrade.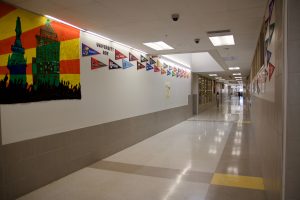 West Philadelphia High School (WPHS), in September 2011 opened its doors to a brand new building located at 4901 Chestnut Street and transitioned into a Promise Academy, thus changing the name to the Promise Academy @ West Philadelphia High School. The new High School is a 170,000 square foot three story building. The first floor is organized along a "Main Street" corridor that includes the administrative suite, a 480-seat auditorium, the creative and performing arts suite consisting of instrumental and vocal music classrooms, practice spaces, dance and art classrooms;
Instructional MediaCenter (IMC, library), a cafeteria to seat 268 students, and Health and Physical Education spaces which includes a fully-equipped fitness center.
The architect, Emanuel Kelly, of Kelly/Maiello Architect & Planners, is a West Philadelphia High School graduate and active alumnus. There was a lot of love and personal pride that went into building the new West Philadelphia High School.
West Philadelphia High School has long been a pillar of the community. We will continue to build upon its history as an educational foundation of the community and will maintain its integrity by reinforcing the relationship between school and home. Our mission is aimed at reinvigorating the academic program, providing students with targeted resources and valuable opportunities for their future.
WE ARE WEST!